App
Nazi-Killing Video Game 'Wolfenstein II' Censored in Germany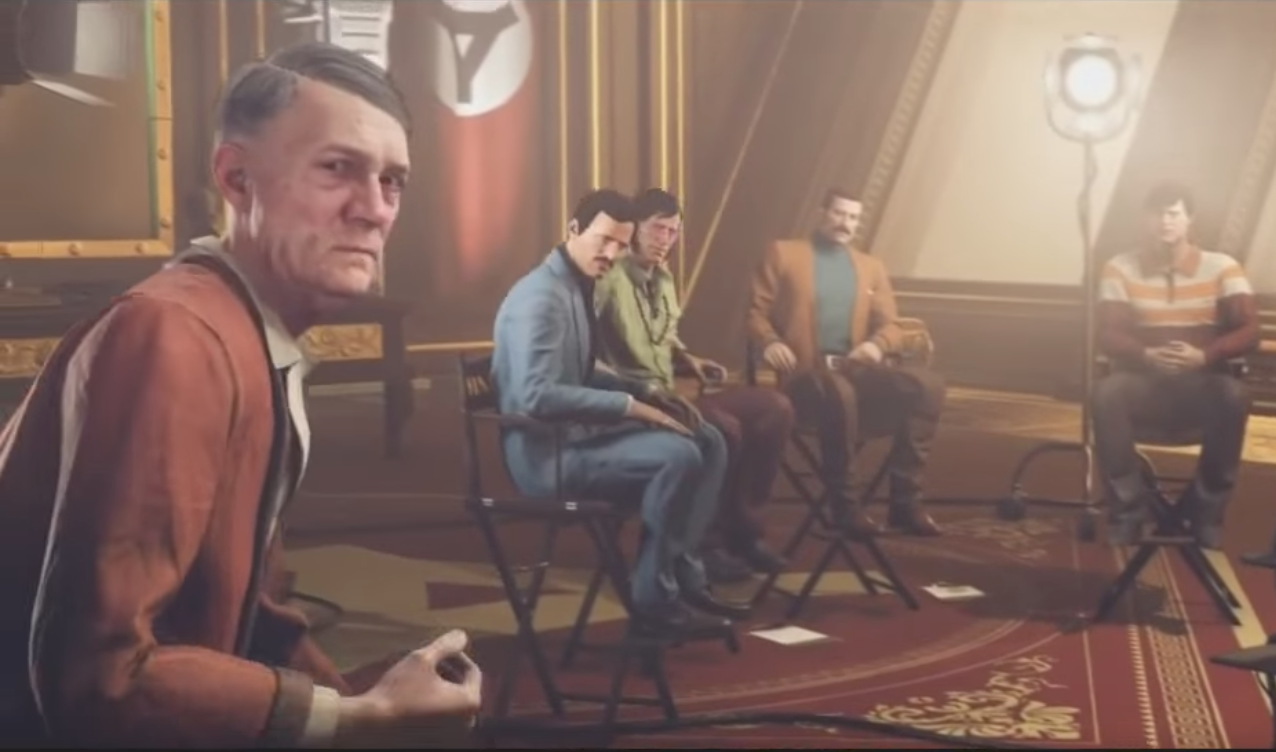 Culture
Adolf hitler
Nazis
Germany
Video game
The latest installment of a Nazi-killing video game
has been censored in Germany
.
Wolfenstein II: The New Colossus, released on October 27, is set in an alternate reality 1961 in which the Axis powers won World War II and "
the Nazis maintain
their stranglehold on the world." It features an aging Adolf Hitler, Nazi flags emblazoned with swastikas and phrases such as mein führer and Heil Hitler! Well, the original version does.
In Germany, the game looks a little bit different. Hitler's
iconic mustache
—the previously popular toothbrush style that fell out of fashion after the war because of its unshakable association with the brutal Nazi dictator—has been removed,
according to a video posted on YouTube by Censored Gaming
that compares two versions of the same scene. (Spoiler alert: Elements of the scene will be described in the next paragraph.)
Related:
Nazi-Killing Video Game 'Wolfenstein II' Angers Nazis With 'Make America Nazi-Free Again' Slogan
In this particular part of the game, Hitler walks into a casting session of American actors who are auditioning for a part in a Nazi-made film. Not only is his mustache gone, but the insignia on his robe is different. It's difficult to make out in the video, but
according to Kotaku
, the German version removes Hitler's initials. Instead of a black swastika in its usual place at the center of a giant Nazi flag hanging in the background, there's a
warped-triangle symbol
. The mustache-less Hitler isn't called mein führer in the German version but rather mein kanzler, meaning "my chancellor," or mein heiler, meaning "my healer." It also replaces exclamations of Heil Hitler! with chants of mein kanzler.
The changes are not surprising, considering German law that bans the use of symbols of unconstitutional organizations. Section 86a of
the German Strafgesetzbuch, or criminal code
, says that whoever "domestically distributes or publicly uses, in a meeting or in writings… disseminated by him, symbols of one of the parties or organizations" or "produces, stocks, imports or exports objects which depict or contain such symbols for distribution or use domestically or abroad" faces imprisonment of up to three years or a fine. Those symbols include "flags, insignia, uniforms, slogans and forms of greeting."
In
a 2011 article for the Journal of Ethnic and Migration Studies
, Middlebury political science professor Erik Bleich explained how Germany moved quickly "in the postwar era to establish penalties for expressing or inciting racism. It did so in part through banning the use of Nazi rhetoric and symbols," he wrote. "Article 86 of the criminal code prohibits National Socialist propaganda that seeks to undermine the democratic order, while Article 86a forbids symbols such as Nazi flags, swastikas and the 'Heil Hitler!' salute."
This isn't the first time
video games
—
including Wolfenstein: The New Order
, which preceded Wolfenstein II: The New Colossus,
and Call of Duty: World War 2
—have been adjusted to remove Nazi symbols for release in Germany.
However, the German code also states that "symbols which are so similar as to be mistaken for those named in sentence 1 shall be deemed to be equivalent thereto."
The Nazi symbols and greetings in the Wolfenstein II: The New Colossus scene, like the Hitler character, are so thinly veiled in the German version that it's hard to miss the original intention. As one YouTube commenter wrote of the coughing, sputtering dictator,
according to Polygon
, "they should've just put a paper bag on his head with 'Not hitler' written on it." But the game-maker Bethesda Softworks and the
MachineGames studio
must think it's enough.
Request Reprint & Licensing
,
Submit Correction
or
view Editorial Guidelines
Chuyên mục: App