App
Why a Coup Broke Myanmar's Oppressive Status Quo-The Atlantic
The military's takeover in Myanmar has prompted a reevaluation of the armed forces' role in society—something that an alleged genocide notably failed to do.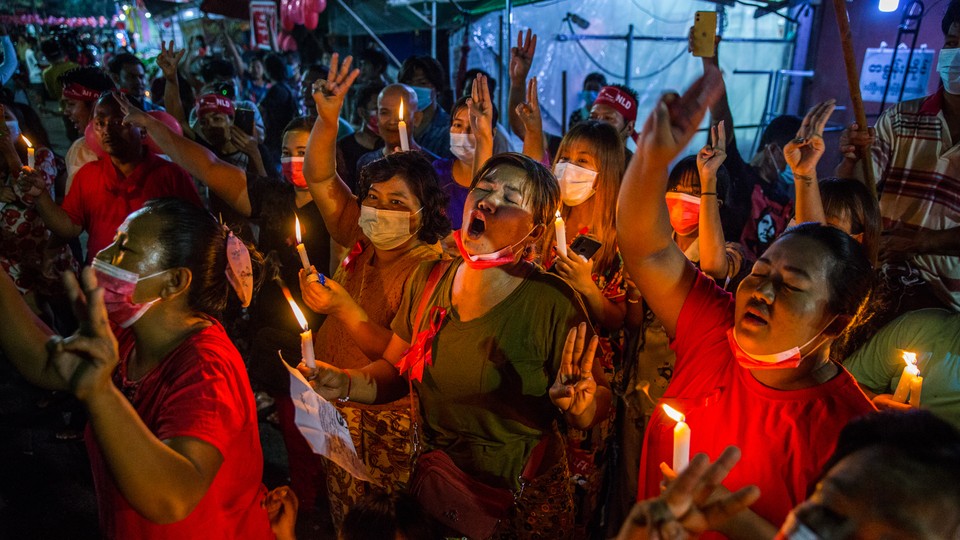 February 11, 2021
What took them so long?
For years, Thinzar Shunlei Yi's activism against the brutality of Myanmar's military, at best, was met with tepid enthusiasm or, at worst, set her up as a target, putting her on a collision course with the country's most prominent voices—including Aung San Suu Kyi.
But after the military took power in a shock, predawn coup last week, detaining Suu Kyi and returning the country to a dictatorship, she has unexpectedly found herself among throngs of flag-waving demonstrators, disobeying and resisting military rule.
In the days since the coup, hundreds of thousands of people have marched in the streets nationwide, in hard-scrabble trading cities on the Chinese border and in towns high in the hills, and even in the colossal capital, built in part to inoculate leaders from such public shows of discontent.
Yet the demonstrations Thinzar Shunlei Yi had organized—in support of journalists, against abuses towards minorities, calling for an end to Myanmar's numerous internal conflicts—drew only modest crowds, mostly young dissidents and a smattering of reporters. Why weren't those excesses and atrocities of the still-powerful generals, including allegations of ethnic cleansing and genocide, not enough? Had these protesters simply not known about those abuses? she wondered.
What took them so long?
Read: How Aung San Suu Kyi lost her way
In a country that emerged from decades of ruinous military rule and isolation in only 2011, this month's coup has sparked intense anger at the armed forces and invigorated a "Gen Z" of young,
meme-fluent protesters
. The country's
new dictator
, Min Aung Hlaing, said he needed to toss out the results of last year's democratic elections—which the military's party resoundingly lost—and grab hold of power in order to, bafflingly, ensure a
"a genuine and disciplined democratic system."
In response, President Joe Biden said yesterday that the United States will
enact new, targeted sanctions
against military members responsible for the coup, as well as their families, and prevent the generals from accessing $1 billion in Myanmar-government funds held in the U.S.
The coup has, however, also prompted the beginning among some of Myanmar's people of a reevaluation of the military's acceptance in society despite its abhorrent behavior—something that a brutal campaign against the Rohingya, for which the armed forces now stand accused of genocide, notably failed to do.
Military companies that are deeply entrenched in the country's economy are suddenly being singled out, with calls for boycotts of military brands and of shops owned by people who have supported the junta. Actors who previously had no issue filming sitcoms and movies with a
production house
owned by the commander in chief's daughter, a regular in Yangon's socialite circles, took to social media to voice support for the demonstrations. There has been international commercial backlash too: Kirin, the Japanese beer maker,
ended a partnership
with a military-backed brewery that it had entered into when the armed forces were still sanctioned by the U.S.; some stores in Myanmar have
stopped stocking
the beer altogether. A prominent Singaporean businessman with a large stake in the military's cigarette company
pulled out of the
investment
.
These abrupt reversals are not contained to the business sector. Protesters gathered yesterday in front of the United Nations office in Yangon, calling for action from the global body, which successive governments and much of the public have for years demonized, dismissing it as
biased
toward Myanmar for its criticism of the country's human-rights record, particularly the handling of the Rohingya. Suu Kyi's own administration accused UN workers of
aiding terrorists
and barred the global body's rights envoy from
entering the country
.
Across Facebook and Twitter, there are also pleas for the media to tell the world what is happening in Myanmar. Yet the same reporters who are now being cheered have
frequently been targeted
by the public, military, government, and even at times their own colleagues as press freedoms have deteriorated in recent years. One of Suu Kyi's advisers,
now detained
, said reporting on the Rohingya crisis bordered on "fake news." A Pulitzer Prize–winning journalist was forced
to flee the country for her safety three years ago
.
These screeching U-turns, rife as they are with contradictions, have left activists such as Thinzar Shunlei Yi frustrated. When we spoke recently, after she had spent the day attending demonstrations, she at times struggled to sum up her feelings. "For so long people were already aware of all these things, but they didn't stand up," she said, the clanging of pots and pans ringing out in the background as she spoke, part of a now nightly ritual
to show displeasure with the new junta
.
The feeling of oppression being experienced across Myanmar was, she said, what the country's ethnic minorities had long been subjected to, something that was too often ignored in Yangon, the country's largest city, and by its Bamar ethnic majority. They "were telling the world, telling the country, that the military wasn't right, that people were being killed," she said. Myanmar's people, however, "didn't care."
Read: How the Burmese military endeared itself to the world
For decades, Myanmar's myriad ethnic minorities, who speak their own languages and have distinct cultures, have been subjected to a multifront campaign of "Burmanization." Part of this informal push involves attacks and abuses by the predominantly Bamar military, but other facets, while less violent, are also insidious: The demolishing of non-Burmese religious sites, the suppression of language and customs, are all aimed at stripping away non-Bamar identity. When Suu Kyi's National League for Democracy took power in 2015, many in the country hoped she would bring reconciliation and provide a greater voice to ethnic minority groups. Instead, she alienated many, and kept others at a distance. A particularly contentious series of
newly-built statues honoring her father
, the late independence hero Aung San, infuriated ethnic groups, some of whom protested and were met with violence by police.
The military, meanwhile, continued its unabated record of horrific rights abuses. In 2017, it launched attacks in Rakhine State that sent hundreds of thousands of predominantly Rohingya Muslims fleeing across the border to neighboring Bangladesh. Suu Kyi stood by the military, going so far as
to defend their actions at The Hague
. While this appearance garnered the most attention, it was far from the only time she sang their praises. In April, she
applauded the military
as they rained artillery and bombs down on villages in the country's west, killing and displacing citizens.
Suu Kyi commands a devotion that is more religious than political. In the Burmese language, she is described as having awe za, a word denoting a certain power and authority that commands respect and admiration, explains Kenneth Wong, a lecturer in Burmese language at UC Berkeley. Part of this is drawn, Wong told me, from her link to her father. She has often cast her support of the military as one based on his legacy as the founder of Myanmar's army. Her defense of their actions was cheered domestically, where it was seen as a defense of the nation and only deepened a pervasive Myanmar-versus-the-world mindset.
Outside of a small group of activists and some ethnic organizations, the Rohingya's plight received minimal sympathy within Myanmar: There were no beer boycotts, no mass demonstrations, no calls for UN support. If anything, quite the opposite—those who raised alarm bells and were critical of Suu Kyi were threatened and targeted. Thinzar Shunlei Yi, whose father previously served in the military, was flooded with calls of solicitation when her phone number was leaked and labeled as belonging to a sex worker. Then the situation worsened, as the calls and messages transformed into threats of rape and death.
In recent days, however,
doctors
,
police officers
,
exotic-pet owners
, and
shirtless muscled hunks
have joined in the anti-coup demonstrations, alongside ethnic and religious minorities. "I'm upset about the ignorance of the majority in the past, but now I'm glad to join the fight with them when they [have] realized the truth," Esther Ze Naw, a young activist from the Kachin ethnic group, who helped lead one of the first demonstrations against the coup last week, told me. Like the others I spoke with, she feared increased repression and a further backsliding on human rights under the military, but said that she saw a silver lining: Although there is still a focus on Suu Kyi's release and the restoration of last year's election results, some are now issuing
a broader set of demands
, including the abolishment of the 2008 military-drafted constitution, the creation of a government with more ethnic representation, and the release of all political prisoners. "Of course, this is a crisis," she said, "but it is also an opportunity to promote a new political agenda for a new generation."
Read: Does Aung San Suu Kyi still deserve a Nobel prize?
Among those who have protested in recent days were a group of Rohingya, who marched through Yangon carrying signs proclaiming their identity. Most in Myanmar refuse to recognize the group at all, but Khin Maung Lwin, one of the Rohingya protesters, said that he was heartened by the warm reception they received. The demonstration, he told me, had provided an exceedingly rare moment of equality. "The whole country is out protesting against the military; we are also from this country—that is why we are participating." The entire day, he said, no one had referred to the group as "Bengalis," the term used derogatorily by most in Myanmar to indicate the Rohingya's status as purported outsiders.
There were other hopeful moments as well. On Twitter, a Yangon resident offered an apology to Yanghee Lee—the former UN special rapporteur to Myanmar who was
blocked by Suu Kyi's government
and called a "whore" by
ultranationalist monks
—for frequently disparaging her on the site. Lee responded, accepting the apology. When I reached out, the person, who asked that they not be named because of the current political situation, told me they now "can see and feel that she has the right intention and kindness" and she wants a "better Myanmar." (Lee told me she was amazed by the messages and public apologies she had received. She said she hoped that the moment presented a chance for "Myanmar to really reconcile and an opportunity for the democratization movement and process to mature.")
So far, the authorities have withheld the type of overwhelming force used to put down popular protests in the past, though police in the northern city of Mandalay
fired live rounds
. "This is one moment in which all the people in Myanmar think with one mind. Resistance to the coup has brought everyone together—including the Muslims and Rohingyas," says Khin Zaw Win, a former political prisoner and the director of Yangon's Tampadipa Institute, a think tank. It was a moment, he told me, to look beyond a singular political figure and party, to start creating a more diverse democracy movement. "This solidarity and amassing of social cohesion and capital is priceless," he said, "and has to be built upon."
Chuyên mục: App